Locations
This Eastlake Victorian mansion was designed and built in 1887 by the local firm of Blair and Zimmerman as a wedding gift for Milton S. Monroe (the first son of William N. Monroe, after whom Monrovia is named) and his bride, Mary Nevada Thomas, the only daughter of the prominent Boyle Heights couple John M. and Jane Thomas. The bride's parents provided the five acres of land; the groom's parents built the nine-room house. The wedding was the social event of the 1887 season.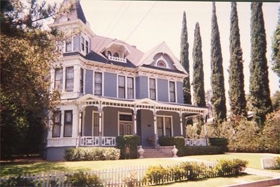 Copyright (c) 1999 Lawrence J. Marotta, Official Photographer of the Monrovia Old House Preservation Group.
Like many other Victorian homes in Monrovia, this one was relocated a little from its original spot as the area around it was developed. As originally built, the house faced south, but was rotated 90 degrees as the land around it was subdivided. (In fact, the 1925 Chicago Bungalow across the street was built on land that was the original Mills View garden).
How did the mansion come to be known as Mills View? Well, despite its auspicious beginnings, the marriage of Milton and Mary Nevada ended in divorce, and the house became the property of Colonel John H. and Elizabeth Mills. In those pre-smog days, it was possible to see Catalina Island from the third floor tower. The Mills ownership and the magnificent view combined to give the mansion its popular name.
The exterior of the house features such elaborate Eastlake touches as turned posts, spindle galleries, an elaborate frieze at the roof line, and gables profusely decorated with scroll work. The interior is equally detailed: mantels of Honduran mahogany, oak and redwood; distinctive tiles for each of the fireplaces, windows with geometric stained glass, doors with unusual panel designs, and hardwood floors of oak, walnut and mahogany.
Mills View is currently owned by one of the founding couples of the Monrovia Old House Preservation Group (MOHPG), and they are painstakingly restoring the flaking paint and other signs of wear. The extraordinary detailing of this mansion makes it a favorite with movie production companies.